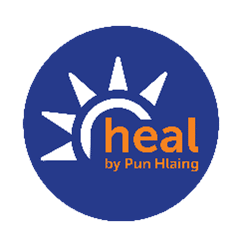 The second step of the newly introduced General Practitioner Clinics under operations of YOMA OUE Healthcare, heal by Pun Hlaing Family Clinics-Star City, was rebranded on 2 June 2022.  Pun Hlaing Clinics – StarCity has been operating in Star City Community since 2017, delivering quality and affordable healthcare to the neighbourhood &  our clinic operates 7 days a week
Upon rebranding to "heal by Pun Hlaing Family Clinics – Star City", the clinic aligned with the "heal by Pun Hlaing Family Clinics" chain's primary focus on our People's health by offering preventive care services.  Our services include general medical consultation, management of chronic medical conditions, health screening packages, preventative medicines, point of care laboratory test services, Diagnostics X-ray and Ultrasound services, minor treatment procedures, retail pharmacy and immunisation services.
On top of current care services, our clinic is extending to offer a wide range of aesthetic treatments under Radiance, Redefinition, Hydration, Youth, Rejuvenation, Soft Skin and Removal by the team of experienced and certified professionals led by Dr Su Myat Thinzar M.B.,B.S (Ygn), Master of Science in Dermatology (BKK). With a deeper understanding of our People's skin conditions, our treatments are explicitly dedicated to meeting the requirements of our people through the team's continuous research. So enjoy your treatments with ease of mind in an environment designed for your comfort and relaxation over at Star City, CL-B3, Ground Floor, City Loft, Star City Development, Thanlyin Township, Yangon.