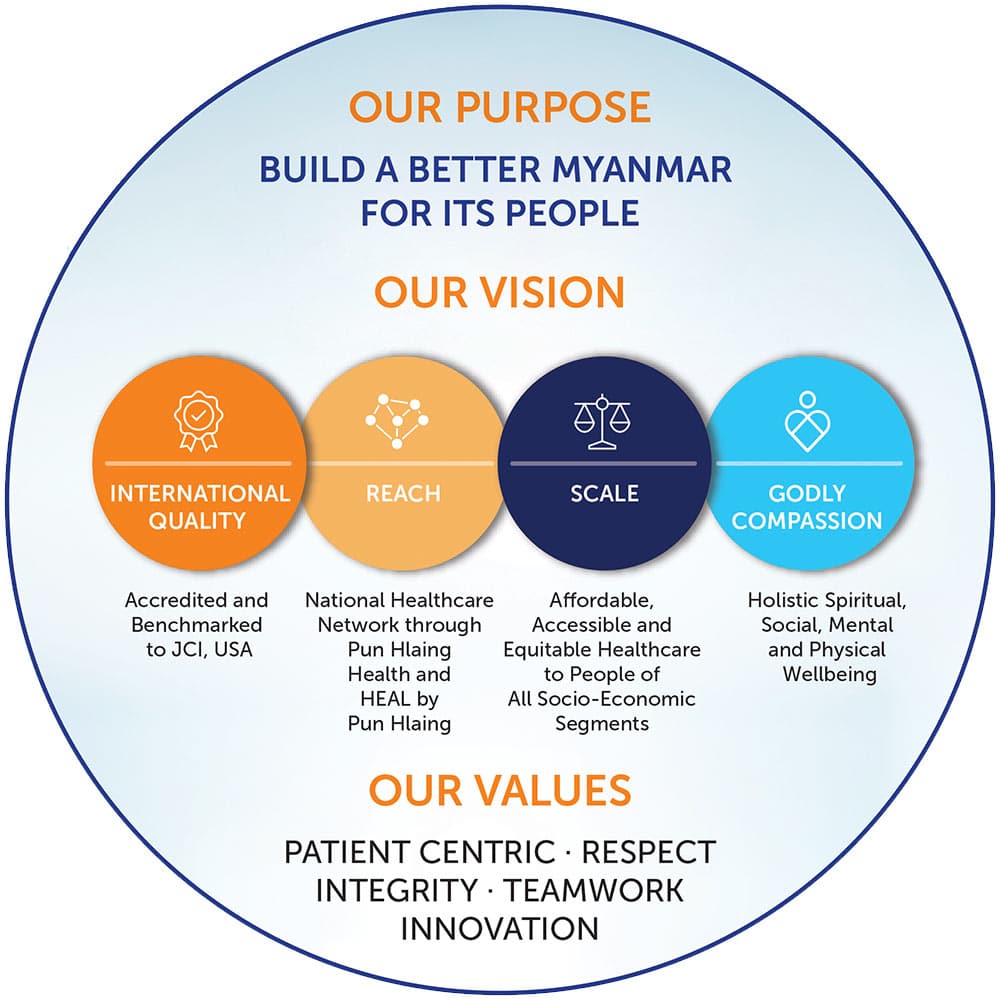 We aim to deliver holistic continuum of care to all socio-segments of Myanmar by leveraging on technology as an enabler.
Yoma-OUE Healthcare ("YOH") aims to overarch virtual and physical care network to reach individuals and corporate partners. YOH has First Myanmar Investment Public Company Limited ("FMI") owns 60% shareholding interest and OUE Lippo Healthcare ("OUE") Singapore owns 40% shareholding interest. In line with the enlarged Yoma Group's mission statement of "Building a better Myanmar for its People", we aim to provide affordable and accessible healthcare that embodies values of International Quality, Scale, Godly Compassion, and Reach to all socio-economic segments in Myanmar.
We deliver healthcare services based on 4P framework of Preventive, Promotion, Personalized, and Predictive. The implementation approach will target an enlarged national catchment of entire 55 million population in Myanmar, which will be made possible through digitized solutions that will complement the service delivery.
Under the brand, Pun Hlaing Hospitals Group ("PHH") operates as a service provider with a total of 3 hospitals and 5 clinics across Myanmar, and is the only Joint Commission International (JCI, USA) accredited hospital in Myanmar for the international gold standard award of quality care and patient safety. With the intention to complement the existing brick-and-mortar model of traditional healthcare service provision and expand the service breadth of PHH, Emerging Healthcare("EH") unit was set up in May 2020 as a new vertical which will enhance frictionless end-to-end virtual healthcare through smart digitized solutions and move towards asset light approach.
By way of interlinking EH's innovative model to the existing network of PHH, we aim to develop a virtual hospihome set-up based on wellness model, new products and service offerings to deliver holistic continuum of care to all socio-segments of Myanmar by leveraging technology as an enabler and by helping create a frictionless and end-to-end ecosystem.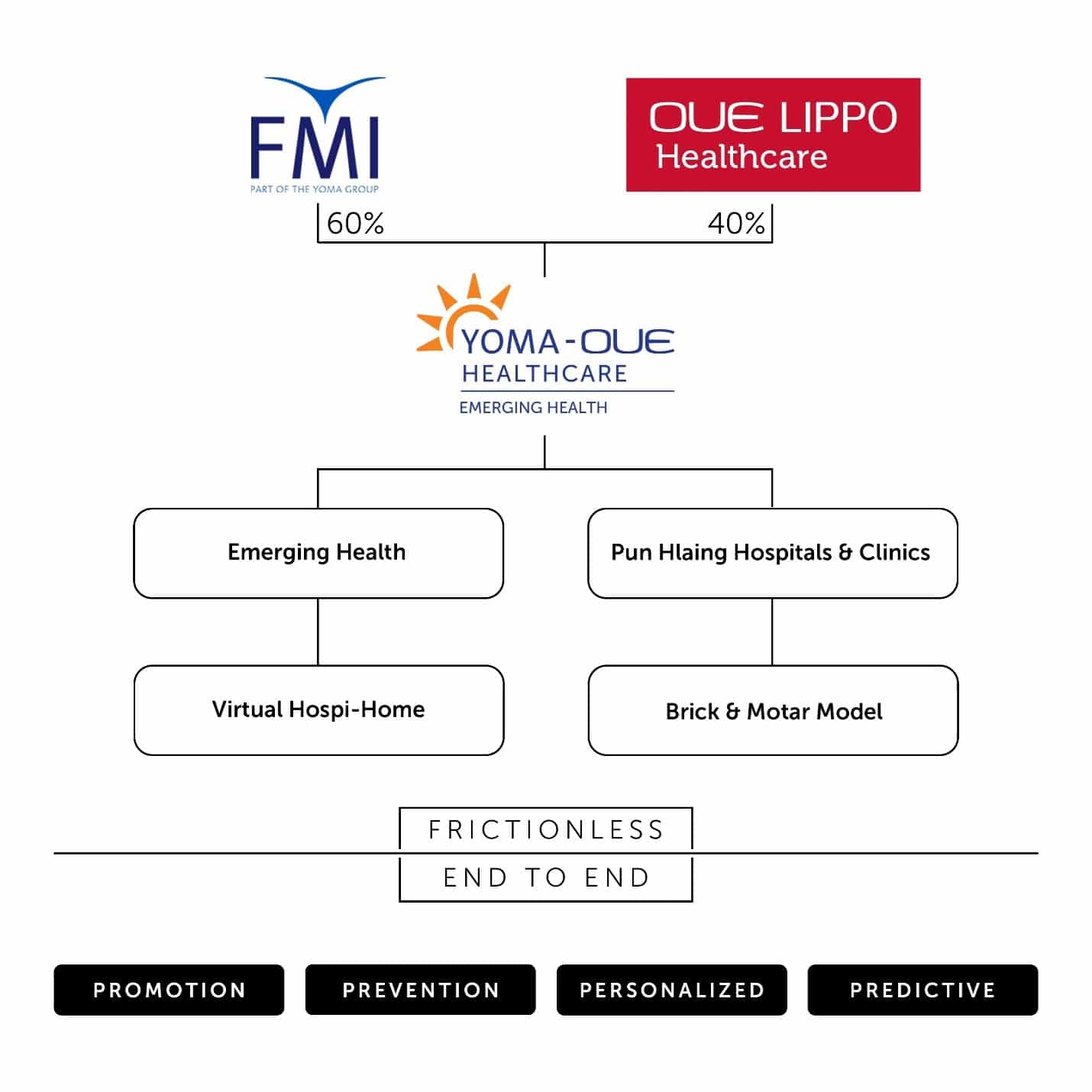 Our initiatives are a first for Myanmar and we plan to continually collaborate with healthcare providers to develop new approaches to improve Myanmar's healthcare system while providing the best personal patient experiences. Centred around delivering holistic continuum of care for people in Myanmar, our strategic direction lies towards delivering care to the national with aspirations set towards building up a Team of Champions to deliver Patient Centric care using analytics and diagnosis based off Big Data depository and ultimately contributing to meeting Myanmar's Sustainable Development Goal 3 of ensuring healthy lives and promoting wellbeing for all at all ages.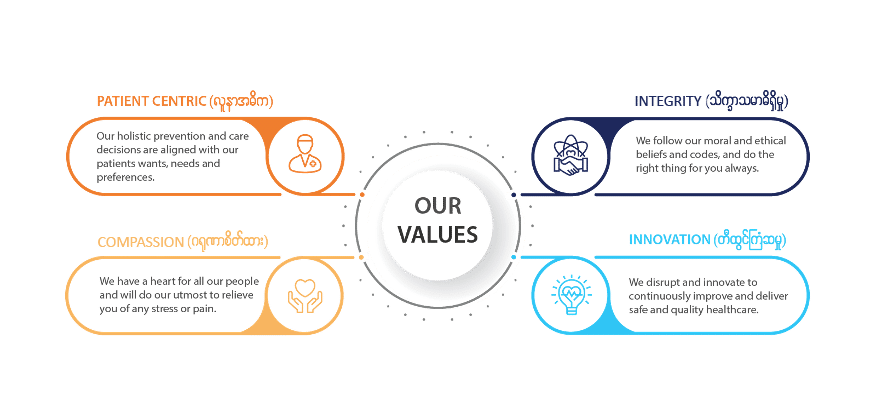 We partner with the most caring companies in Myanmar